The Pacific Power Association (PPA) is currently holding a 7 day training workshop on Solar Operation & Maintenance, Battery Storage and SCADA which is being held in Apia, Samoa, from 2 to 10 July, 2018, hosted by Electric Power Corporation, Samoa. This workshop is for the Southern Utilities and follows the same workshop conducted for the Northern Utilities from 20 – 28 June 2018. This is a priority training area identified in the Training Needs Analysis conducted in 2017 with funding from the Sustainable Energy Industry Development Project (SEIDP) granted by the World Bank.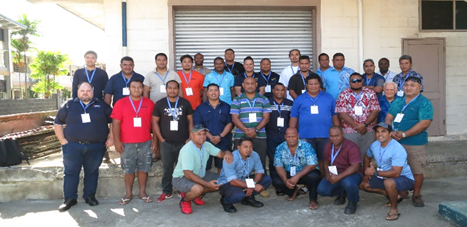 This workshop is attended by 27 participants representing 10 utilities from the Southern Pacific; EFL (Fiji), TPL, Tonga, PUB (Kiribati), ASPA (American Samoa), NUC (Nauru),  the host utility EPC (Samoa, SP (Solomon ), PPL (Papua New Guinea), TAU (Cook Islands)  and TEC (Tuvalu). The workshop was officially opened by Mr. Gordon Chang the Deputy Director, of PPA.
The 3 main sections in the workshop program are Days 1 – 4 spent covering PV Operation maintenance, Days 4 – 5 on Battery Storage Systems and Days 6 – 7 on SCADA design. The workshop sessions allowed for practical sessions as well as a site visit to EPC's Solar Farm at the Old Race Course.