The Pacific Power Association, with support from the World Bank, has turned its lens on tackling gender equality in the power sector. Revealing that the proportion of women employed in technical roles throughout the region's power utilities stands at just 4%, PPA has recognized the need for a fresh approach. "Our member utilities in the Pacific Islands are struggling with two big shared challenges" said PPA Executive Director, Andrew Daka. "One is aging infrastructure. The second is an aging workforce.". In the context of recruitment challenges, women are an under-tapped labor pool that "we can no longer afford to ignore", explained Daka.
This week the PPA welcomed four 'Gender Champions' to Suva for a lively week of collaboration, discussion, learning and planning. The four individuals – two men and two women, and representing Samoa, American Samoa, and Cook Islands – were selected by PPA and its membership as outstanding examples of leadership in contributing to promoting women and creating a workplace and culture within utilities that is welcoming and inclusive to all employees, regardless of gender. As part of their appointments, each of the Gender Champions participated in film interviews during which they shared their experiences and gave their views on how and why gender equality is a strategic priority for the future of the sector. The videos will be part of a new section of the PPA website, dedicated to gender and workforce development. PPA plans to launch the revamped site with a program of special events at its annual conference, which will take place this year from 30th July to 3th August in Palau.
Mr Mau Simanu, Chief Engineer from Samoa's Electric Power Corporation and a gender champion, said "The public perception of engineering is that it's a 'dirty' job full of manual labor, and unsuitable for women. In fact, this is not the case – engineering in the power sector is exciting, well-paid, and fundamentally about problem solving, creativity and making a contribution to society. It is a job for anyone who enjoys these things and shows an aptitude for mathematics and science". 
Ms. Edna Noga, Staff Engineer at ASPA, American Samoa, added: "there's no reason, in this day and age, that women cannot work in all roles in the power sector. From meter techs to engineers to administrative personnel – all jobs should be open to strong candidates regardless of whether they are male or female. We as utilities need to get more skilled at creating workplace environments where everyone feels welcomed and empowered to contribute."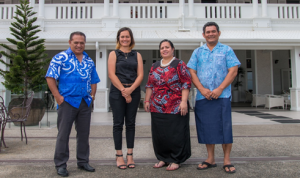 Pacific Power Association "Gender Champions" L-R Apii Timoti – CEO (Te Aponga Te Uira, Cook Islands); Teiiti Paio – Electrical Engineer (Te Aponga Te Uira); Edna Noga – Staff Engineer (American Samoa Power Authority); Mau Simanu – Chief Engineer (Electric Power Corporation – Samoa)